QUARTZ PCI: Microscope Software
Quartz PCI is the preferred microscope image acquisition, processing, archiving and measurement software of thousands of researchers around the world. PCI software helps you manage all aspects of the imaging process including acquisition, processing, annotation, measurement, reporting, archiving and retrieval.
Quartz PCI software is available in both Lab and Office versions. Quartz PCI Lab is installed on instrument PCs and includes image capture functions. Quartz PCI Office is installed on office workstations and allows image processing and annotation to be carried out offline, away from the instrument. PCI Office includes all of the functionality of PCI Lab, except for data acquisition.
What's NEW in QUARTZ PCI 11
Windows 11 compatibility
PCI 11 is the first version that supports Microsoft Windows 11. It also works on Windows 7, Windows 8 and Windows 10.
Unicode support
PCI is now a Unicode application. This means images can be annotated and reports can be generated using Unicode characters. This facilitates use of PCI with languages that do not use Roman characters and the sharing of data within international organizations.
Mouse wheel zooming and scrolling
You can now use the mouse wheel to zoom in and out and to scroll the image horizontally and vertically. To scroll vertically, simply spin the scroll wheel. To scroll horizontally, hold the Shift key down while rotating the scroll wheel. To zoom, hold the Ctrl key down.
Works with more types of instruments
The PCI File Import Function will now read calibration information from files saved by Delong electron microscopes and Keyence light microscopes, in addition to the numerous types of files supported by earlier versions of PCI.
Field of View (FOV) read out
For calibrated images, PCI 11 will display the field of view of the image in the status bar under the image.
Improvements to the Automated Measurement Module
The release of PCI 11 coincides with the release of Version 8 of our Automated Measurement Module. PCI AM can now check measurements against tolerances that you specify and flag outliers. It adds the ability to rotate the image automatically to orient the features horizontally and vertically. A new layer detection tool is included and manual horizontal reference lines can also be added. In addition, PCI AM also includes advanced improvements to our edge detection algorithms.
Microscope Image Acquisition
Quartz Imaging offers specialized modules for image capture from digital and analog electron microscopes (SEMs, STEMs, TEMs), light microscopes, video sources, TWAIN devices and virtually any other kind of imaging instrument. PCI's comprehensive support for many types of instruments means that you only need to learn how to use one software package to acquire data from all of your laboratory instruments. Even EDX data can be handled through PCI's ability to import EMSA files.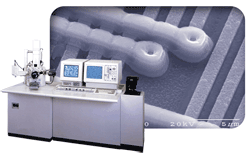 Options available to acquire images from virtually any image producing device including slow scan SEM and STEM, TWAIN, video capture and digital file import
Imports images in numerous image formats
Imports EDX data in EMSA format
Image Processing Software
Once you have acquired your images, PCI Lab & Office provide a complete set of image processing and display functions including image zooming, pseudo-coloring, brightness, contrast and gamma adjustment, color correction, smoothing, sharpening etc. Anaglyph stereo images can be constructed and aligned.
PCI also has the ability to reverse raster rotation, to rotate images by arbitrary angles and to perform tilt correction in order to prepare images for measurement.
Quartz PCI performs image sharpness measurement on SEM images in accordance with ISO standard ISO/TS 24597:2011.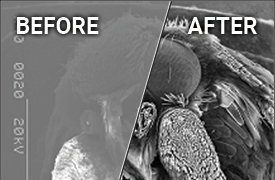 Many functions for improving and adjusting the appearance of your images
Reverse raster rotation
Tilt correction
Construction of anaglyph stereo image
SEM resolution measurement
Image Annotation Software
Quartz PCI includes numerous tools for annotating your images. All annotations are contained in a separate overlay layer so that the image behind is preserved and so that the annotations can be easily moved and adjusted. It is possible to save a default overlay that contains, for example, your company logo or a Confidential indicator, that will be applied automatically to all images that are acquired. At the appropriate time, you can choose to burn the overlay into the image.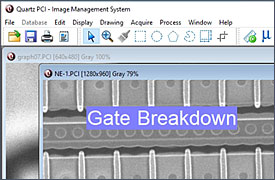 Complete set of annotation tools

Add micron marker to images

Use of overlay layer preserves image

Ability to burn in overlay

Can have auto applied annotation (e.g., company logo or confidential indicator)
Image Measurement Software
In addition to the standard annotation tools, PCI includes a comprehensive set of image measurement tools. Like the annotation tools, these tools operate in the overlay layer allowing measurements to be adjusted after their initial placement. As you make measurements, the results are displayed both on the image and in a spreadsheet grid below the image. The contents of this grid can be saved and easily copied into other software such as Microsoft® Excel. In applications, such as quality control or semiconductor process development, where the same measurements are repeated on numerous images, you can set up a Measurement Sequence that steps the analyst through the measurement procedure.
Quartz Imaging has also recently introduced our Automated Measurement (AM) Module for PCI which performs automated measurements on semiconductor features.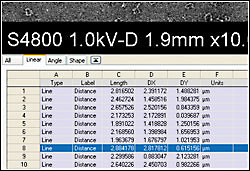 Complete set of image measurement tools
Measurement data displayed in grid and can be easily exported
Measurement Sequence Feature saves time for repeated measurements
New Automated Measurement module for PCI
Laboratory Report Generation Software
PCI includes a full–featured report layout tool. After you have acquired your images, or even while you are acquiring them, PCI makes it easy to produce polished, professional reports.
PCI database fields can be placed on the report and automatically filled with database information pertaining to the associated image. The same tools that are available for annotating images are available for adding annotations to the report. Master pages and templates facilitate the development of standard reports for your organization, incorporating elements such as corporate logos.
Reports can be exported in the Microsoft® Word and Microsoft® PowerPoint® file formats, so that you can continue working on them in the Microsoft® Office environment. Finished reports can be exported in the PDF for easy distribution to your colleagues and clients.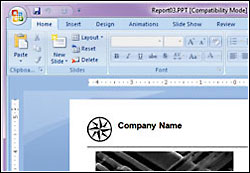 Comprehensive built-in report generator and editor
With PCI database, can create report in just a few clicks, regardless of number of images
Easy to generate report template
Reports can be exported in PDF, Word, and PowerPoint formats
Image Database Software
PCI Lab & Office include powerful tools to help you access and manage your images intuitively and to turn those images into usable information. Quartz Imaging's scalable family of high-performance image database solutions can help a single microscopist keep track of hundreds of images or help an entire organization keep track of millions of them.
In addition to tracking images and other data files, the Quartz PCI image database also tracks Jobs, Instrument Sessions and Samples.
The Workgroup Database is included with every copy of PCI Lab & Office. Designed for facilities with up to approximately 10 users, the Workgroup Database provides a simple, yet powerful, introduction to image database systems.
For larger organizations, Quartz PCI connects directly to the enterprise-grade Quartz LIMS database.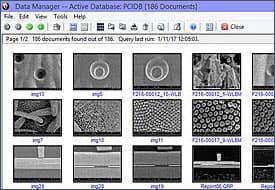 Powerful searchable image database included
Images can be stored in the most popular file formats
Tracks jobs, sessions, samples, images and other documents
Laboratory Information Management System (LIMS) Integration
Quartz PCI is tightly coupled to the Quartz LIMS systems. Data acquired and processed in PCI is available immediately to LIMS users without any separate data upload step. Similarly, data stored in the LIMS system can be retrieved and processed directly from with the Quartz PCI software. PCI supports optional barcode readers to facilitate job and sample selection at the instruments. The use of PCI at each instrument allows us to collect fine-grained timing and instrument usage data to produce meaningful management and productivity reports.
PCI offers easy, fast and accurate uploading of all types of data and analysis results into the Quartz LIMS system
Even more effective with barcode scanners at sample check-in and instruments
Time Stamps - Tracks times by Job, Session, Sample, Instrument and Analyst - provides metrics for Lab Management Reports