Image Acquisition Software
Specialized modules are available for microscope image capture from electron microscopes (SEMs, STEMs, TEMs), light microscopes, video sources, TWAIN devices and virtually any other kind of imaging instrument.
Older Analog SEMs
Quartz PCI Slow-Scan acquires high-resolution, slow-scan images from any manufacturer's SEM and STEM microscopes without interfering in any way with normal microscope operation.
Upgrade Your Old Analog SEM with Digital Imaging
Updating your SEM with the latest digital image acquisition capabilities improves productivity and reduces operating costs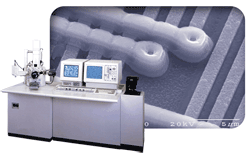 E-mail clients their results
Include images in reports
Easily retrieve historical data
Eliminate film and photographic materials and processes
The Slow-Scan version of Quartz PCI Lab adds high quality, digital image capture and processing capability to any SEM or STEM for a very affordable price. Convert your SEM to digital imaging today!
More on Digital Image Capture for SEMs
PC-BASED SEMs
PCI Lab can import images from most PC-based SEMs.
PCI reads the magnification calibration information from files imported from instruments from most manufacturers, including:
Delong
FEI
Hitachi
JEOL
Phenom
Tescan
Thermo Fisher
Zeiss
You can make measurements right away with no calibration step required.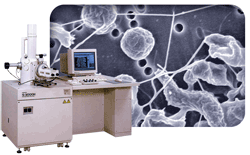 TEMs
Quartz PCI AMT provides a direct software interface to AMT's Digital CCD Camera Systems that permits images to be transferred to PCI directly from the AMT software.
PCI can also import files saved in the DM3 and DM4 formats from Gatan Digital Micrograph.
Light Microscopes
Quartz PCI Video captures images from any video source, such as a camera-equipped light microscope. PCI TWAIN acquires images from TWAIN devices, such as digital cameras and scanners.
PCI permits straightforward image capture from light microscopes with support for:
Video Cameras
Digital Cameras
Calibration information is read automatically from images imported from Keyence microscopes.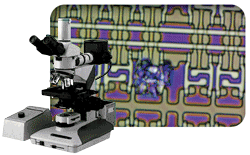 Other Instruments
Using techniques such as hot folder monitoring, PCI can bring in images from virtually any image producing device. PCI supports importing images in a multitude of image file formats.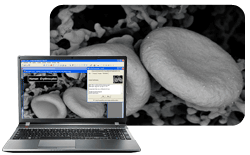 Video
Color or monochrome images can be captured from any video source. PCI displays a live video window on the computer display for easy focusing and adjustment of the image.
Digital Still Cameras/Scanners
PCI supports the popular TWAIN standard. Images can be acquired from most scanners and digital still cameras.
Direct to Digital Instruments
Software is available to facilitate the transfer of images from instruments, both Windows®-based and non-Windows®-based, that produce digital images directly, such as:
AFMs
PC-based SEMs
FIBs
Acoustic microscopes
and more
Charts, Graphs, Spectra
Users of the Quartz LIMS systems can use the PCI Virtual Printer Driver to "print" data from any Windows software into the PCI database.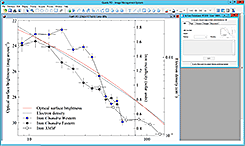 Workstation PCs
Quartz PCI Office is used for offline viewing, processing, measurement and analysis of images acquired with Quartz PCI Lab Packages. Quartz PCI Office includes all of the functionality of the Lab version, with the exception of image acquisition.
Features of PCI Office include:
Viewing
Measurement
Annotation
Processing
Database storage and retrieval
Report generation from office PCs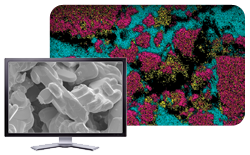 Image Stitching
Quartz StitchNT is used to stitch multiple SEM images acquired with stage automation into a single large image.
Features of StitchNT include:
Viewing
Image processing, such as levelling image backgrounds
Automated image registration
Fine registration adjustment